You should ensure your new MEDION PC with pre-installed Microsoft Windows operating systems includes:
1. Authenticity certificate label (COA, Certificate of Authenticity)
With all MEDION PC systems, on which an original Microsoft Windows operating system is pre-installed, an authenticity certificate label (COA, Certificate Of Authenticity) is attached to the housing of the system. This COA label is equipped with different security characteristics. For more information about the authenticity certificate (COA label) please click here. Below is an example of how the authenticity certificate (COA, Certificate OF Authenticity) is attached to the MEDION PC system.
MEDION PC illustration with COA label: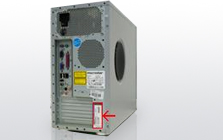 Illustration of a MEDION product guide "Getting started":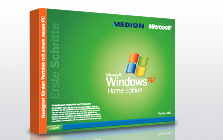 MEDION AG provides the option to restore the original Microsoft Windows operating system on the computer with the purchase of our PC systems:
Illustration of MEDION OEM CD media: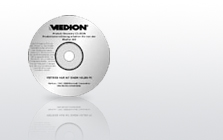 For questions regarding the available restore options for your system contact our Multimedia Hotline.
Report software piracy:
Inform Microsoft if you suspect that a product is pirated software. Select 0800-181-4733 (free of charge for UK) or send an email to illegal@microsoft.com . Your details are treated confidentially.
Questions and Answers:
Specific information about recovery and our PC models
What does BIOS lock mean?
A BIOS lock is a technical mechanism that allows you to perform an installation only under certain conditions. A special code, developed by us, prevents the installation of content of external media (e.g. recovery CD) except additional files (driver, tool, etc.), on a PC system other than that of the OEM's (hardware manufacturer).
How do I restore my system if it no longer works correctly??
You can either install the system recovery CD with all the options of the Windows Setup. Simpler and faster, especially for less experienced users, is the ability to restore the factory default: limited recovery
Subsequent changes to the configuration (Telecommunications /Desktop /Internet attitude) and software installations are not restored.
Subsequent driver updates and hardware supplements are not included.

Attention!


Erases all data on the C drive. Make a backup on D drive if necessary.
The system is always returned to the factory state. Printer Setup or further installations as well as entering your "product key" (license number) must be done again if necessary.
Are PC manufacturers or dealers committed to deliver Microsoft products with a full back up copy?
Article 50A paragraph 1 of the Copyright, Designs and Patents ACt 1988 reads as follows: "It is not an infringement of copyright for a lawful user of a copy of a computer program to make any back up copy of it which it is necessary for him to have for the purposes of his lawful use." It is stressed that two program copies can be delivered to the user from the outset, a working copy and either a backup copy or an alternative equivalent that gives the user the right to create a backup copy independently or with a 3rd party program.
Users of Microsoft products can exercise the right to create a backup copy (or making a backup copy by a third party), before the introduction of the so-called BIOS lock on a Recovery CD. After introduction of the BIOS lock it is still technically possible for the user to make an entire backup copy of the software installed on the hard disk. In conclusion, it is therefore incomprehensible for the purchaser to demand a price reduction in case of a lack of a full backup copy.

Support Information
For questions regarding the restore options available for your system please contact our Multimedia Hotline.
Find more questions and answers on OEM recovery solutions at::
www.microsoft.com/resources/howtotell/de/faq.mspx