Microsoft OEM Recovery Solution
Microsoft ® OEM Recovery solution for Microsoft® Windows® Operating system products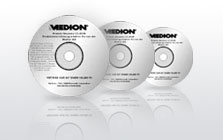 MEDION strongly supports the efforts of the IT - industry to prevent illegal copying of software or the simultaneous use of a software license on several PC systems. Our customers can be assured that with a MEDION PC system only original legal software is supplied.
All MEDION PC's include an option that, if necessary, restores your original Microsoft ® operating system preinstalled on your PC.
All recovery solutions are intended for the infrequent occasions when your operating system does not perform as expected or where there are changes or malfunction of the hardware. These options in no way restrict the possibility of adding or removing hardware or software. Your ability to create a backup of the operating system is also not affected.
MEDION provides the following recovery solutions for the variety of products offered:
External recovery disc (CD Media)


- often referred to as "Recovery CD". This is a CD or DVD which clearly has the name of the PC manufacturer or brand name of the PC and contains the pre-installed software on the PC with which you acquired it. The media package is supplied with the PC and contains all the required files to restore the operating system on your PC.


Disk-based recovery (Hard Drive-based Recovery System)


- the restore files are stored on a separate partition on the disk and can, if required, be used to rebuild the system. No CD is required and in most cases the PC repairs itself.

No additional recovery solution (No Media)


- no provision of external media. The operating system is only installed on the hard disk and the basic setup files are always a component of the pre-installation. In the event that a recovery is necessary, please contact our support.
Contact us for questions regarding the available restore options for your system via our Multimedia Hotline.